This is how we do it...
Implementation methodology
Understand
In our approach to design solutions, we start by understanding and visualising existing processes, stakeholders, user roles and business goals. This understanding is extremely useful in creating best process design which has maximum adoption. With our prior expertise we know exactly what data to ask for and where we can find them in an organisation.
Visualise
With in and out knowledge of Marketing Platforms, we share all relevant and possible functionalities with the business team, this helps the stakeholders to easily visualise their own business processes being mapped on the platform. Based on gathered understanding we create business processes and mapping of process on a demo platform.
Mix it Up & Keep it Simple

With correct understanding of existing business processes, business goals, best practices and marketing platform itself; we come out with most easy to use, intuitive and straight forward solution design for business teams.
Unique Agile Methodology

With an agile mindset, we focus on a methodology where we start solution configuration together with the champion team on a daily basis. This makes the champion team more and more comfortable with the solution. Over the time we have seen champion teams doing the configuration together with us, becoming self reliant, confident and thus making change management easier.
User Acceptance

A considerable pie of our implementation phase is dedicated towards exhaustive sessions for business users to test the application and poke holes, this helps in the final conditioning of platform. These sessions are designed to be executed in parallel to deployment phase, thus making the whole deployment process more leaner.
Adoption is Key

Adoption is key and because in marketing automation you need to understand exactly how system functionalities help marketers to make their lives easier, we prefer to train ourselves. We create easy to grasp user manuals, we offer workshops and 1 on 1 training sessions for (super)users and we provide managers with tools and techniques to drive adoption.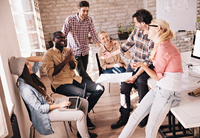 We strive to become a trusted partner and good friends with business team. After delivery of the project we keep on working with you as your processes change and keep coming up with more innovative ways to help make your business processes more efficient and easy to execute.